Why Are We Overpaying for IT Expense Management?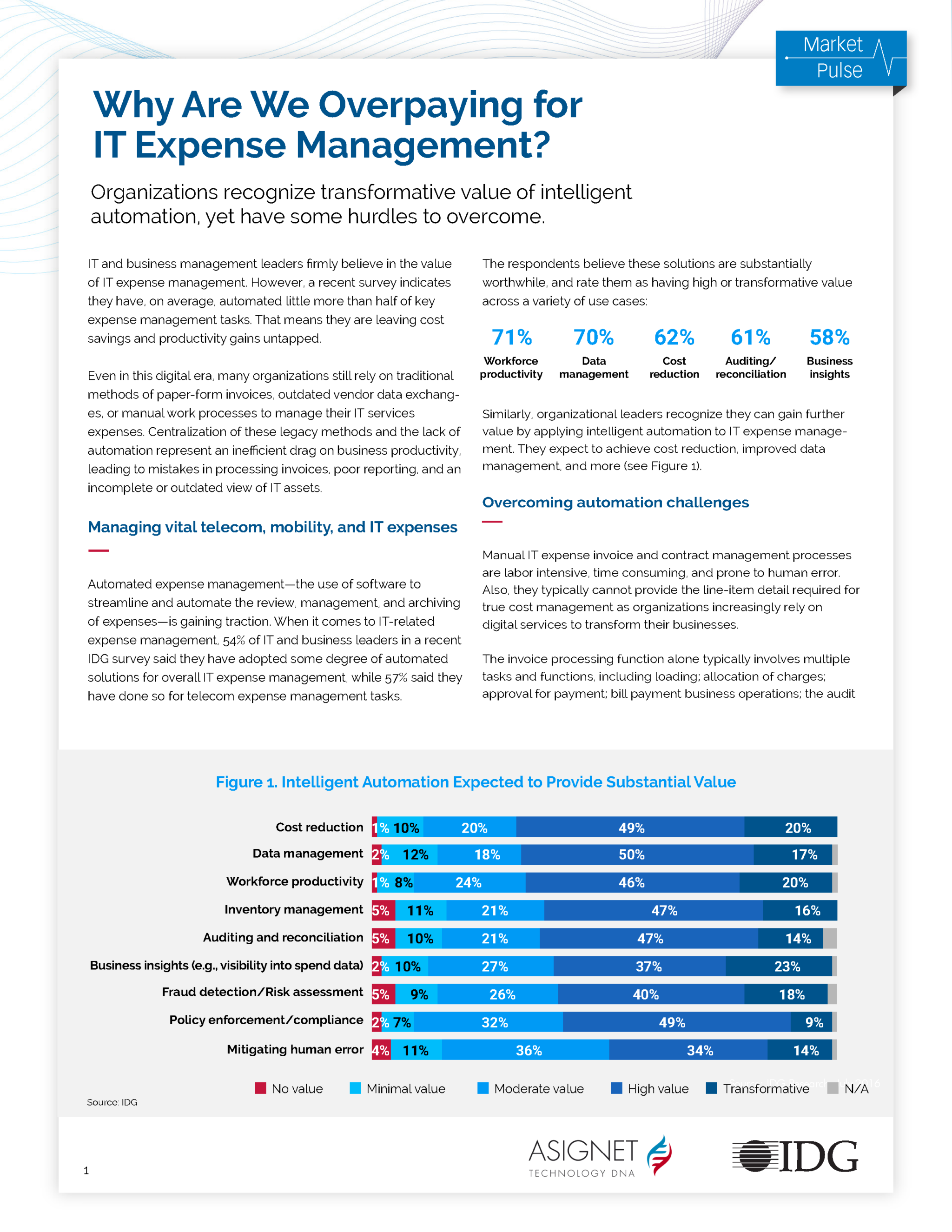 An IDG and Asignet Impact Paper
Organizations recognize the transformative value of intelligent automation, yet have some hurdles to overcome.
Managing vital telecom, mobility, and IT expenses
When it comes to IT-related expense management, 54% of IT and business leaders in a recent IDG survey said they have adopted some degree of automated solutions for overall IT expense management, while 57% said they have done so for telecom expense management tasks.
The respondents believe these solutions are substantially worthwhile, and rate them as having high or transformative value across a variety of use cases.
Overcoming all kind of automation challenges
Automation typically raises concerns over how it will impact existing jobs and how change might disrupt existing processes with which staff are comfortable. Yet, business, in general, is undergoing unprecedented digital transformation and cannot afford to perpetuate isolated silos of inefficient manual processes.
New approaches to IT expense management can free up resources to steer personnel into more productive and innovative endeavors.
Turning IT expense management into an asset
With a comprehensive and fully integrated suite of managed
services
and control capabilities, Asignet, through its
Wayfast
platform and native
RPA
processes, provides a layer of audit, visibility, BI, and savings.
Additionally, our technology enables username and password encryption to allow for single sign-on to all enterprise portals.
Unlock your business potential
Automated audit and dispute management.
Automated and binding claims reports to carriers with errors in billing.
Improves productivity, and ensures proper billing.
Reduces End of Fiscal Year saturations
Automation of PO's approvals
Eliminate missed payments to suppliers
Balance quality against costs
Integrated and customized service catalogs, workflow processes, and Vendor integration
Visibility and control of IT assets.
Ensures that software licenses are reused appropriately.
Complete transparency and traceability.
Automation of manual processes with a high level of accuracy.
And more.